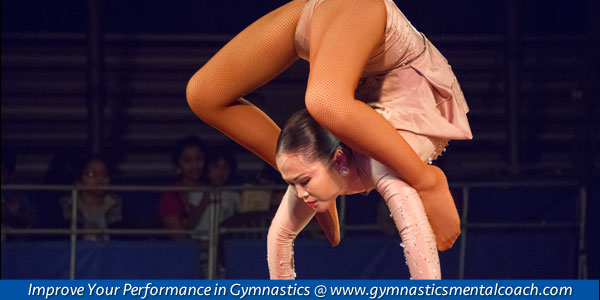 How to Handle Pressure in Gymnastics
How do you perform in the "heat of battle?" When the competition is on the line, are you excited to shine or filled with apprehension and anxiety?
When outcomes are uncertain and a gymnast has a lot riding on its outcome, often the gymnast will feel some degree of pressure.
Do you raise the level of your performance or succumb to the pressure?
Does pressure fill you with performance anxiety or do you thrive under the pressure? The misconception is that pressure is bad.
Pressure can either help or hurt performance. If you learn to manage the pressure and use it to your benefit, you can rise to greater heights within gymnastics.
The University of Maryland women's gymnastics team is committed to harness the pressure of competition in order to reach its goals for the 2013-14 season. Brett Nelligan is heading into his 5th year as head coach and has created some lofty goals for his squad,
"We want to improve on last year's finish. Last year we finished No. 22. We want to see if we can get into the teens, maybe top-15 or top-18."
Last year, the team was nationally ranked as high as No. 14 but due to injuries down the stretch, the team finished No. 22. The Terrapins are no. 24 in the GymInfo preseason rankings and the goal is to go undefeated at Comcast Center and on the road in the conference.
How are the Terrapins working to harness the pressure of competition?
For starters, the team has amped up the competition during their annual preseason Red vs. Black intrasquad meet. Senior captain Katy Dodds was impressed with how the team performed in the mock competition,
"I think the girls did really well under the pressure for the first time."
Freshman Emily Brauckmuller felt the mock competition provided beneficial experience for the younger gymnasts,
"It was such a different experience than back in high school. There was so much energy from the crowd."
Another technique the Terrapins utilize is managing pressure by viewing competitions as an assessment of performance, not ability.
Dodds viewed the competition as an evaluation of what the team needed to improve to perform better in future competitions,
"It's still very early and I think there are a lot of little mistakes that we made but I think it's a good thing for where we are now because we know what we need to fix and work on."
Another valuable tool the Terrapins employ is the mindset of "getting right back on the horse" after making a mistake which minimizes over-thinking. Senior captain Ebony Walters fell off the beam twice and Junior captain Stephanie Giameo also fell off the beam.
Giameo recognized the importance of bouncing back quickly and regaining focus,
"I was disappointed, but you can't lose focus, so I jumped right back up there and finished it up. To be able to come back up after that is what makes you mentally tough."
You can adopt similar techniques to help you manage pressure more effectively.
You need to understand that some pressure is good for gymnasts and it's our thoughts that cause pressure, not the competition.
You can create pressure situations in practice to help yourself learn to manage those emotions. You should understand that gymnastics competitions provide good feedback on what you can improve for the future.
You should never ruminate about mistakes. Learn how to thrive under pressure during competitions instead of giving into performance anxiety.
The hallmark of championships lies in their ability to rebound quickly from adversity.
Control the pressure… don't allow pressure to control you.
Download our free Gymnastics Psychology Report!