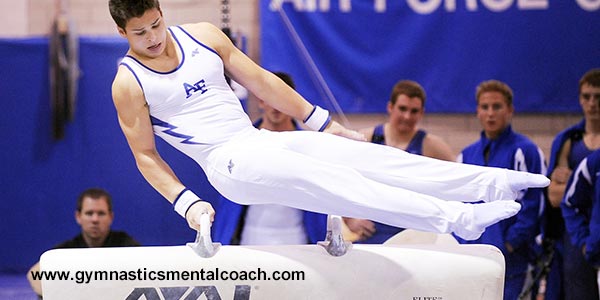 Getting Back on Track After Disappointment
Have you ever trained so intensely for one meet, only to be disappointed by your performance?
Disappointment is something all gymnasts will experience at one point in their career. It's impossible to score a personal best in every routine at every meet, even though you train hard to achieve top scores.
Handling disappointment will be the determining factor in how quickly and how much better you will perform in future meets.
A gymnast recently sent us a question in regards to disappointment:
"Last year, I trained so hard for my end-of-the-year meet. I spent extra time working one-on-one with our coach and I felt like I was ready for a breakout performance. Then I fell off the balance beam and ruined my whole meet. I was so disappointed that I've lost all motivation. How can I get back on track?"
It can be emotionally painful to miss the mark after you have invested a significant amount of time and effort preparing for a meet or tournament.
In practice, you worked through all the grueling training, falls, slips and have dealt with bumps, bruises and nagging injuries. In your mind, you kept telling yourself that it is all worth it and that your hard work will pay off.
Soon, that tournament arrived and you felt sure that you were going to nail your routines.
Unfortunately a slip, under-rotated landing, minor deduction and a step out of bounds crushed your hopes for the meet. All your hard work seemed like a waste of time. You felt so much disappointment that you wanted to stop competing in the sport all together.
Your response to disappointment will shape your future mindset. If you respond in a negative manner, you will continue to feel frustrated and feel a sense of hopelessness for a prolonged period of time.
Alternately, if you respond in a positive manner to disappointment, you will maintain a sense of control and be fueled to bounce back quickly and better than ever.
Processing disappointment helped 18 year-old USA gymnast Morgan Hurd win the 2020 women's all-around title at the American Cup, after failing to make the 2019 world championship team.
Hurd was greatly disappointed for not securing her spot in the six-woman world championships team last year but she has maintained a positive outlook.
HURD: "I guess I just have almost a different mentality. I'm learning to be calmer… I felt like I couldn't get any lower so the only way to go was up from there."
Tom Forster, the US National Women's Gymnastics team coordinator commented on the importance of responding to disappointment with a self-enhancing mentality.
FORSTER: "This was [Hurd's] opportunity to state who she is as an athlete… You never know how athletes are going to handle that. Some get really sad and it kind of crumbles their self-confidence. Others get mad and do something about it. That's what you hope for, and that's exactly what she did. She made a statement."
You have a choice in how you respond to adversity and disappointment. That is extremely important to remember when adversity hits.
You can choose to allow disappointment to infect your mind and cut away at your confidence or you can chose to use disappointment to motivate and fuel future performances. Either way, your choice will shape your level of future performances.
Responding to Adversity After Disappointment
Let a few days pass after the meet so you can objectively evaluate your performance.
To move in the right direction after a disappointing performance, ask yourself, "What can I take from this performance that can benefit me in the future?"
The answer to this question can turn "what happened" into "what will I do now".
This means you want to learn and grow from bad performances instead of pout and beat on yourself mentally. How will you learn from the last meet?
---
Learn Mental Game Secrets to Unstoppable Confidence in Gymnastics!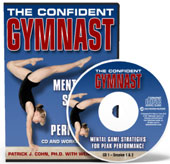 Are you ready to improve your mental toughness and perform with ultimate self-confidence in competition?
Check out The Confident Gymnast Program!
The Confident Gymnast CD and workbook program was developed not only by Dr. Cohn, but with the assistance of former gymnast Olympian Wendy Bruce.
The Confident Gymnast is ideal for any competitive gymnast. But not only do gymnasts benefit from the program, coaches and parents do as well!
Gymnasts: Get the mental edge by learning how to take control of their confidence, mentally prepare for competition, and preform with composure under pressure
Parents: Help boost your athletes' performance. Don't let their mind hold them back any longer!
Coaches: Boost your gymnasts' confidence using simple, proven mental strategies.
Mental Coaches: Learn a proven system for helping your athletes boost mental toughness.
The Confident Gymnast is a complete brain dump of the TOP 8 mental training sessions we teach our gymnasts to help them boost their mental game and improve consistency- from how to mentally prepare for competition to performing under pressure to building unstoppable confidence.
The Confident Gymnast: Mental Game Strategies For Peak Performance
What are our mental coaching students and parents saying?
"I enjoyed 'The Confident Athlete' very much. I particularly liked the format, the ease of the program, and the 2 CDs that accompanied the workbook – 10-20 minutes a day was simple to adhere to and put in my busy schedule. I love the part about confidence with grace, and what I want to portray and feel the minute I step foot into Los Angeles for nationals. I love the affirmations, the relaxation techniques, and just the entire perspective of the program."*
~Sarah, US National Aerobic Gymnastics Team
---
Disclaimer
*Testimonials found on this site are examples of what we have done for other clients, and what some of our clients have said about us. However, we cannot guarantee the results in any case. Your results may vary and every situation is different. No compensation was provided for these testimonials.