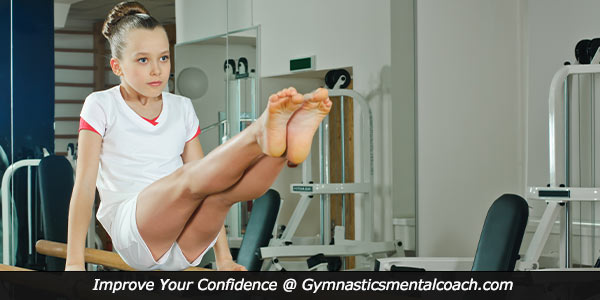 Find the Positivity in Your Situation
How do you handle long layoffs during the gymnastics season? When you face the inability to train or compete, do you become anxious and feel like you are falling behind other gymnasts?
The COVID-19 pandemic has been a disruptive force in the training of all gymnasts, but the coronavirus is not the only cause of an interruption in training.
Injuries, nagging pains, and long-term sickness are among other reasons that prevent gymnasts from training and competing.
Layoffs can cause gymnasts to lose confidence, feel down and become overly anxious. You may have thoughts such as, "Why me? I have improved so much throughout the year and now I'm back to square one." Your motivation and mood suffer when you focus on your negative circumstances.
Are Long Layoffs Always Detrimental?
Many gymnasts believe the key to success is the "early" and "often" philosophy. In other words, if you start gymnastics at an "early" age or "early" in the season, you are more likely to succeed… And the more "often" you train, the better you are prepared for success.
Early and often can be counterproductive. If you have been participating in gymnastics since the age of 5, with only 1 day off a week, you can understand how the sport can take a toll physically and mentally.
A layoff may be just what is needed to better prepare you to get to the next level or significantly improve your routines in the future.
Some of the benefits of having a layoff are:
Increased longevity in the sport
Time to heal, mend and strengthen your body
Opportunity to dedicate time to mental training
Mental break to reignite passion for gymnastics
Fresh start to the season
Time to re-evaluate routines and ways to improve performance
It's all in how you look at things. When you see the opportunity in a layoff, you will be motivated to take your game up a notch and find new strategies to improve future performances.
Laurie Hernandez Views Layoffs as an Opportunity
Laurie Hernandez won the gold medal in the team event and the silver medal on the balance beam at the 2016 Rio Olympic Games at the age of 16. After the Olympic Games, Hernandez took a break from competition and didn't return to training until the U.S. national team camp in November 2019.
Hernandez was planning to return to competition in the spring of 2020 and then the pandemic halted sports and postponed the Olympics to 2021.
Still, Hernandez has trained for the 2021 Winter Cup in Indianapolis with hopes of making the US Olympic team. Hernandez has viewed the past year as an opportunity rather than a loss.
HERNANDEZ: "It's definitely really helpful, I'm not gonna lie. The extra year [with no competing] actually gives me a lot more time to train and add some upgrades and maybe get a little more consistent on things that I wasn't too sure about for this year."
Within adversity exists opportunity. When you find ways to take advantage of your situation, not only do you find ways to improve as a gymnast, you are better able to handle adversity in the future.
How to Take Advantage of Layoffs:
Unforeseen challenges are tough to handle for athletes who prefer routine. You will experience negative emotions and that is normal. Take some time to be upset.
Assess for how you can continue to improve and grow in your situation. Identify 3 ways you can improve each day and focus on those 3 aspects. Set daily objectives to help you stay focused on growth.
Focusing on what and how you will improve your game will keep you motivated and positive during layoffs.
---
Learn Mental Game Secrets to Unstoppable Confidence in Gymnastics!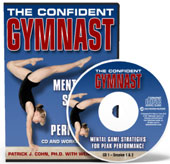 Are you ready to improve your mental toughness and perform with ultimate self-confidence in competition?
Check out The Confident Gymnast Program!
The Confident Gymnast CD and workbook program was developed not only by Dr. Cohn, but with the assistance of former gymnast Olympian Wendy Bruce.
The Confident Gymnast is ideal for any competitive gymnast. But not only do gymnasts benefit from the program, coaches and parents do as well!
Gymnasts: Get the mental edge by learning how to take control of their confidence, mentally prepare for competition, and preform with composure under pressure
Parents: Help boost your athletes' performance. Don't let their mind hold them back any longer!
Coaches: Boost your gymnasts' confidence using simple, proven mental strategies.
Mental Coaches: Learn a proven system for helping your athletes boost mental toughness.
The Confident Gymnast is a complete brain dump of the TOP 8 mental training sessions we teach our gymnasts to help them boost their mental game and improve consistency- from how to mentally prepare for competition to performing under pressure to building unstoppable confidence.
The Confident Gymnast: Mental Game Strategies For Peak Performance
What are our mental coaching students and parents saying?
"I enjoyed 'The Confident Athlete' very much. I particularly liked the format, the ease of the program, and the 2 CDs that accompanied the workbook – 10-20 minutes a day was simple to adhere to and put in my busy schedule. I love the part about confidence with grace, and what I want to portray and feel the minute I step foot into Los Angeles for nationals. I love the affirmations, the relaxation techniques, and just the entire perspective of the program."*
~Sarah, US National Aerobic Gymnastics Team
---
Disclaimer
*Testimonials found on this site are examples of what we have done for other clients, and what some of our clients have said about us. However, we cannot guarantee the results in any case. Your results may vary and every situation is different. No compensation was provided for these testimonials.