What Every Gymnast and Coach Must Know To Improve Mental Toughness in Gymnastics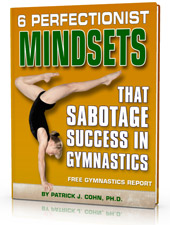 Get instant access to our Gymnastics Psychology Report and discover:
How your mind can be your best or worst asset in competition.
If perfectionism is holding you back from reaching your peak.
The top 6 perfectionist mindsets that sabotage success.
How to use perfectionism to your advantage, not to your demise!
We'll also notify you when we have other gymnastics psychology tips to boost your performance in competition!
Please input your name and primary email in the box below to immediately download our free gymnastics psychology report: