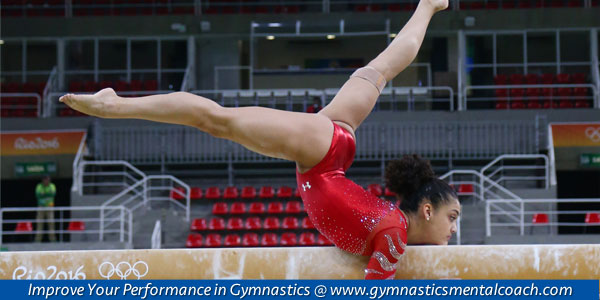 Improving Consistency in Gymnastics
The sign of an elite gymnast is the ability to perform consistently despite the pressures of competition and physical demands of constant training.
Gymnastics is a mentally challenging sport because it requires strength, coordination, courage, focus, and confidence.
Gymnasts need to have a high level of confidence to take risks that can improve their score, but could result in serious injury.
Each event in gymnastics has its own unique mental game challenges.
Though gymnasts compete in a team atmosphere, ultimately, gymnastics is an individual sport… To add to the mental game challenges in gymnastics, you need to execute your routine while under the scrutiny of judges and spectators.
To succeed, you must be consistent at a high level.
This takes:
concentration
determination
endurance
fearlessness
confidence
Kohei Uchimura is a 24 year-old Japanese gymnast known for his consistency. Uchimura has won consecutive world all around titles (2009, 2010, 2011 and 2013) and the gold medal for all around in the 2012 Olympics.
Uchimura is considered by many as the greatest gymnast of all time due his consistency and ability to precisely execute his difficult routines.
Kevin Mazeika, the head coach of the U.S. men's gymnastics team acknowledged Uchimura's amazing ability and consistency,
"He's [Uchimura] able to do incredibly difficult things and just make it look easy."
Uchimura began learning the sport at the age of 3, but it's his commitment to hours of repetition during training sessions that aids his confidence and consistency.
"I never had lucky charms. All I believe in is practice."
Uchimura credited his training regimen for producing his consistent results and belief in skills,
"I have practiced so much for this, so I think it has genuinely been through my own abilities that I have been able to make it to this point and not through luck. I don't think my natural talent is much different to other gymnasts. It is a matter of how I train, and how I think about my training. I also give a lot of thought to my routines."
Even German Gymnast Phillip Boy recognized the value of Uchimura's repetitious training regimen,
"He's [Uchimura] a very special gymnast. Everything he's doing, it looks beautiful. And he makes no mistakes. He's really kind of a machine. It's amazing."
It is not just repetition that has benefited Uchimura's consistency, but a precision focus on himself, his abilities and what he needs to do to perform optimally,
"I always do my own things, I don't think about rivals."
Keys to Improving Consistency in Gymnastics
Repetition – You can increase your level of confidence by habituated technical skills through focused, disciplined practice.
Training – You should practice to mimic what you feel in competition. In practice sessions, you want to do a lot of "pressure sets" to mimic the feelings you have in competition.
Focus – You must focus on "your own stuff."  By staying focused on your abilities and the things that you do well, your confidence will soar allowing you to take more risks and meet new challenges.
For more information and tips about how to improve the mental game, check out The Confident Gymnast workbook and CD program.
---
Learn Mental Game Secretes to Unstoppable Confidence in Gymnastics!
Are you ready to improve your mental toughness and perform with ultimate self-confidence in competition?
Check out The Confident Gymnast Program!
The Confident Gymnast CD and workbook program was developed not only by Dr. Cohn, but with the assistance of former gymnast Olympian Wendy Bruce.
The Confident Gymnast is ideal for any competitive gymnast. But not only do gymnasts benefit from the program, coaches and parents do as well!
Gymnasts: Get the mental edge by learning how to take control of their confidence, mentally prepare for competition, and preform with composure under pressure
Coaches: Boost your gymnasts' confidence using simple, proven mental strategies.
Parents: Help boost your athletes' performance. Don't let their mind hold them back any longer!
Mental Coaches: Learn a proven system for helping your athletes boost mental toughness.
The Confident Gymnast is a complete brain dump of the TOP 8 mental training sessions we teach our gymnasts to help them boost their mental game and improve consistency- from how to mentally prepare for compeition to perorming under pressure to building unstoppable confidence.
The Confident Gymnast: Mental Game Strategies For Peak Performance
What are mental coaching students saying?
"Ashley wanted me to let you know that she placed very well at her competition this past weekend, thanks to you! She won the short, won the long, and had her personal best. She now looks at her competitions like ice shows and has fun. It is really nice to see her thoroughly enjoying the skate. She is very focused and very confident. We definitely attribute this to you."
~Brenda Glassco, Skating Parent
---

What All Gymnasts Must Know to Overcome Perfectionism
Are you a perfectionist? What is your mindset when performing?
Here you'll learn:
How your mind can be your best or worst asset in competition
If perfectionism is holding you back from reaching your peak
The top 6 perfectionist mindsets that sabotage success
How to use perfectionism to your advantage, not your demise
What are gymnasts saying?
I really appreciate your mental game tips. It is very informative and useful, helped my game so much.
~Irene
---
Boost Your Self-Confidence And Focus With Expert Mental Game Coaching!
Master mental game coach Dr. Patrick Cohn can help you overcome your mental game issues with personal coaching.
You can work with Dr. Patrick Cohn himself in Orlando, Florida or via Skype, FaceTime, or telephone. Call us toll free at 888-742-7225 or contact us for more information about the different coaching programs we offer!
Mental Game Coaching with Dr. Cohn
What are our mental coaching students and parents saying?
"I am so grateful for your insights and experience. My focus is sharp and I feel relaxed but ready to meet whatever challenge comes up. If I make a mistake, I am able to let it go and move on immediately. You have really helped me a lot to get back on track and get things going again."
~Suzanne Strudwick