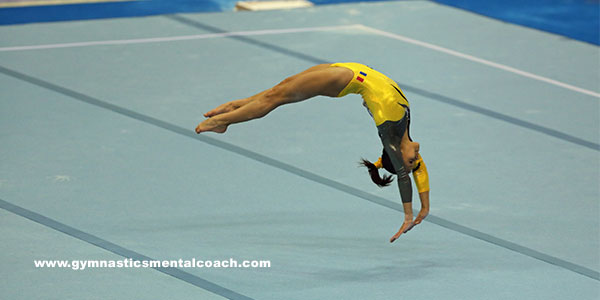 The Mental Skills of Top Gymnasts
Why do some gymnasts who put so much effort into improving their scores often receive lowers scores than past performances?
What are they focusing on during their performances?
You would think working harder, refining routines, working longer in the gym, strengthening skills, developing more powerful dismounts and sticking landings would produce better scores.
Yet, many gymnasts become frustrated saying, "The more I work on scoring higher in my routines, the lower my score in meets. I don't get it. I work so hard."
To make matters more confounding, these same gymnasts say, "When I didn't even care as much or work as hard, I steadily improved my scores."
The issue at play is not your level of effort, the amount you practice, your ability or skills.
These four aspects of training and performance are necessary to achieve top scores. The problem is focusing too much on THE SCORE!
When you step to an apparatus with a score in mind of what you want to achieve, it blocks you from focusing on what you need to do to perform the best routine–one skill at a time.
A split focus doesn't leads to peak performance.
Focus on the score means focus on the future–or end of the routine. That type of result-oriented focus leads to anxiety and distraction.
In the following phrases, you can hear the heightened sense of urgency and anxiety:
"My team needs me to score a _."
"I need a _ to make it to Nationals."
"I need a _ to achieve a personal best."
As odd as it may sound, if you want to achieve your best scores, stop thinking about the score and immerse yourself into the elements of your routine.
Keeping a present-moment focus allows you to give everything you have physically and mentally in your routine which ultimately leads to best results.
Take for instance Katelyn Ohashi…
Ohashi, who was competing at her very last competition of her career at the 2019 Aurora Games, needed a 9.9 or better to push her team to victory.
Not only did Ohashi put an exclamation mark on her career by receiving a perfect 10.0 on her floor exercises routine, she helped Team Americas pull out a 158.5-158.3 victory over Team World in dramatic fashion.
With everything at stake, Ohashi paid no attention to what score she might receive.
OHASHI: "I didn't know what score I had to get. This is my last competition, so I wanted to leave it all on the floor. It was such a fun event. You could tell the energy of the entire thing. I was playing with the crowd and trying to have as much fun as possible."
Ohashi pulled off an amazing routine by focusing on being a performer in front of the audience and having fun while doing so.
This mentality leads to great performances and personal best routines.
Of course you want to be rewarded with high scores for all your hard work and the best method is to let go and have fun performing your routine in the moment.
Isn't that the reason you chose to compete in gymnastics anyway?
Scoring Your Best on Routines:
It is easy to say "don't think about results." But what should you focus on?
Since you cannot focus on two separate thoughts simultaneously, choose to focus on a phrase to redirect your focus such as: "Have fun," or "Grace and power."
Use a simple mental choreography that locks your mind into your routine but allows you to be a performer.
Focusing on the process during your routine brings desired results.
---
Learn Mental Game Secrets to Unstoppable Confidence in Gymnastics!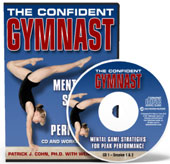 Are you ready to improve your mental toughness and perform with ultimate self-confidence in competition?
Check out The Confident Gymnast Program!
The Confident Gymnast CD and workbook program was developed not only by Dr. Cohn, but with the assistance of former gymnast Olympian Wendy Bruce.
The Confident Gymnast is ideal for any competitive gymnast. But not only do gymnasts benefit from the program, coaches and parents do as well!
Gymnasts: Get the mental edge by learning how to take control of their confidence, mentally prepare for competition, and preform with composure under pressure
Parents: Help boost your athletes' performance. Don't let their mind hold them back any longer!
Coaches: Boost your gymnasts' confidence using simple, proven mental strategies.
Mental Coaches: Learn a proven system for helping your athletes boost mental toughness.
The Confident Gymnast is a complete brain dump of the TOP 8 mental training sessions we teach our gymnasts to help them boost their mental game and improve consistency- from how to mentally prepare for competition to performing under pressure to building unstoppable confidence.
The Confident Gymnast: Mental Game Strategies For Peak Performance
What are our mental coaching students and parents saying?
"I enjoyed 'The Confident Athlete' very much. I particularly liked the format, the ease of the program, and the 2 CDs that accompanied the workbook – 10-20 minutes a day was simple to adhere to and put in my busy schedule. I love the part about confidence with grace, and what I want to portray and feel the minute I step foot into Los Angeles for nationals. I love the affirmations, the relaxation techniques, and just the entire perspective of the program."*
~Sarah, US National Aerobic Gymnastics Team
---
Disclaimer
*Testimonials found on this site are examples of what we have done for other clients, and what some of our clients have said about us. However, we cannot guarantee the results in any case. Your results may vary and every situation is different. No compensation was provided for these testimonials.
---