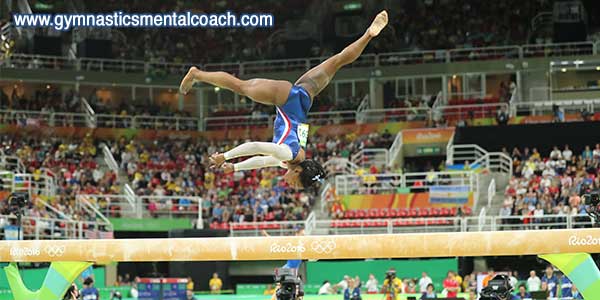 How to Cope with Distractions
Attention, Distraction and Competition
In gymnastics, there are many potential distractions during a meet.
Different competitive arenas, the importance of a meet, the bounce of the equipment and the crowd are all factors vying for your focus. Not to mention, a small bobble in an earlier routine, bad week of practices, trying out a new routine, feeling sick or dealing with a nagging injury.
It's not the easiest task to prevent distractions from taking over your focus but with some mental training, you can learn to maintain a strong focus in a variety of circumstances.
This is not to say that working on developing a strong focus will eliminate distractions. That is not a realistic goal.
A strong focus consists of maintaining your focus for longer periods of time, getting in the right mindset before your routine, recognizing when a distraction starts creeping into your mind and knowing how to quickly re-focus on the routine you are performing at that moment.
To counter distraction, a strong focus on your routine is the best strategy. That doesn't mean thinking about what to do every second but immersing yourself in the feel of your routine.
A strong focus requires a deep trust in your training and practices. Trust is knowing you have done everything necessary to perform at your peak and letting it unfold.
Rutgers University Women's Gymnastics team knew they needed to focus if they were to be on their game at the Big Five Conference Podium meet.
Rutgers came off a huge win over No. 25 Penn State University as the team headed into the Big Five Meet, a meet with tougher competition.
The aspect that makes podium meets more challenging or potentially distracting is that the equipment is raised on a podium which can alter the feel or bounce or the equipment.
Rutgers coach Umme Salim-Beasley acknowledged the possible distraction of a podium meet but offered sound advice to deal with potential distraction and it all centered around trust.
SALIM-BEASLEY: "There is some difference [in a podium meet]. We are going to be talking with them a lot this week about the differences of being on the podium, what to expect and not to panic. We want them to really trust in their gymnastics and what they're capable of doing, not letting podium affect them."
Rutgers' senior gymnast Jenna Rizalla suggested that focusing on the little things in practice helps develop trust and focus in big meets.
RIZALLA: "We've been trying to focus on the small details, a tenth here, a tenth there is something that will really boost up our score going into this next meet, Big Fives."
Working on the little things in practice gives you confidence so you can pull off those things in your routine.
By trusting your training and focusing on your routines, there become less distractions competing for your attention.
Tips for Focusing During Big Meets:
Develop a mental choreography for each of your routines.
Keep the choreography simple and not detail-oriented. Know what your top distractions are when you compete–list these.
Immerse yourself into your performance cues via your choreography. If you become distracted, stop and refocus quickly on the current skill.
---
Learn Mental Game Secrets to Unstoppable Confidence in Gymnastics!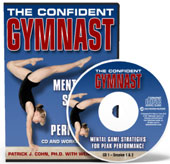 Are you ready to improve your mental toughness and perform with ultimate self-confidence in competition?
Check out The Confident Gymnast Program!
The Confident Gymnast CD and workbook program was developed not only by Dr. Cohn, but with the assistance of former gymnast Olympian Wendy Bruce.
The Confident Gymnast is ideal for any competitive gymnast. But not only do gymnasts benefit from the program, coaches and parents do as well!
Gymnasts: Get the mental edge by learning how to take control of their confidence, mentally prepare for competition, and preform with composure under pressure
Parents: Help boost your athletes' performance. Don't let their mind hold them back any longer!
Coaches: Boost your gymnasts' confidence using simple, proven mental strategies.
Mental Coaches: Learn a proven system for helping your athletes boost mental toughness.
The Confident Gymnast is a complete brain dump of the TOP 8 mental training sessions we teach our gymnasts to help them boost their mental game and improve consistency- from how to mentally prepare for competition to performing under pressure to building unstoppable confidence.
The Confident Gymnast: Mental Game Strategies For Peak Performance
What are our mental coaching students and parents saying?
"I enjoyed 'The Confident Athlete' very much. I particularly liked the format, the ease of the program, and the 2 CDs that accompanied the workbook – 10-20 minutes a day was simple to adhere to and put in my busy schedule. I love the part about confidence with grace, and what I want to portray and feel the minute I step foot into Los Angeles for nationals. I love the affirmations, the relaxation techniques, and just the entire perspective of the program."*
~Sarah, US National Aerobic Gymnastics Team