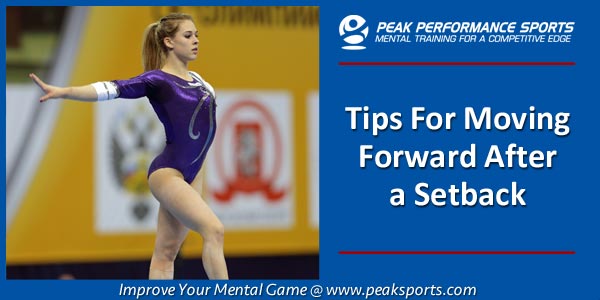 How to Overcome Setbacks to Reach Your Goals
Setbacks are a part of life… but to an athlete who has dedicated a big chunk of his or her life to gymnastics, setbacks can be difficult to navigate.
You or your athletes put long hours into improving conditioning, working on skills, honing routines and practicing new tricks.
Gymnasts invest a lot of blood, sweat, tears, time and energy in hopes of reaping the rewards for all their hard work.
…And THEN, you get injured, or fall at a major competition, or become sick after qualifying for finals, or your coach leaves for another program, or you get an unfair low score, or a family crisis occurs.
You may ask yourself, "Why me? I have worked so hard to get here and now all is lost. This is so unfair." You may even question if all the work was worth it and consider giving up the sport.
No doubt, it certainly stinks when an unexpected setback pops up at an inopportune time.
Most of the time, it is not the setback that stops you from achieving your goal… it's you that stops you.
That is a harsh reality that all gymnasts need to face because all gymnasts will face multiple setbacks throughout their careers.
Granted there are varying degrees of setbacks but it is your choice whether that setback stops you in your tracks or causes you to take a detour.
The view of a setback as a detour is a positive mindset that keeps you going after your goal.
Of course, your timetable and path to your goal may have changed, but your focus and energy remain stable as you fight to move past that setback and forward to your goal.
When you handle setbacks with perspective and a positive attitude, setbacks only serve to strengthen your resolve.
Setbacks are character revelers… these bumps in the road can show you what you are capable of overcoming.
When you view setbacks in a relatively positive light, you soon realize that the success you experience in gymnastics is not despite setbacks but, in part, due to how you handle those setbacks.
Gymnast John Orozco has been shooting for an Olympic medal even before he qualified for the 2012 Olympics at the age of 19.
Unfortunately, things have not gone exactly as planned for Orozco…
Orozco finished last in the pommel horse in the 2012 Olympics; reinjured his Achilles tendon in 2015 and suffered the passing of his mom last year.
Despite all these setbacks, Orozco stayed focused on achieving an Olympic medal.
OROZCO: "I don't think about 2012 at all. Everything that happened in 2012 happened. I'm so grateful for the experience, and now it's on to bigger and better things."
Orozco's positive attitude has put him in position to achieve that Olympic medal as he recently secured a spot on Team USA for 2016 Rio Olympics.
OROZCO: "It's a new me. I've changed as an athlete and as a person and I hope it shows through my gymnastics, that's what I'm looking forward to at these next Olympic Games. I have a different demeanor. I'm a little more positive, easier on myself. It takes the stress away and that allows me to do my job."
Tips for moving forward after a setback:
Take time to assess your situation after a setback. Yes, it stinks that you had to go through injury or or challenges but commit to go THROUGH IT!
Find time to change up your game plan. Focus on what you can do. Tell yourself this setback will help fuel you to become a better you.
Reframe the problem (defeat or injury) into a scenario that works for you rather than hurts your chances of success – just like John Orozco did.