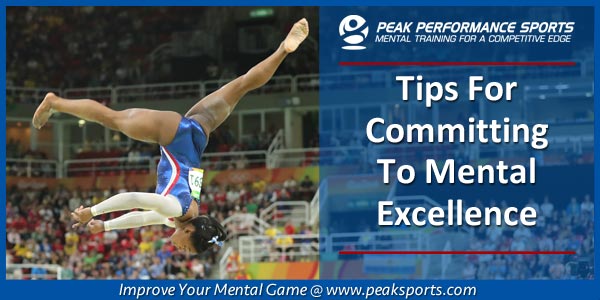 Simone Biles' Improves Confidence With Sports Psychologist
Simone Biles ranks as the most decorated American gymnast in U.S. history with a combined total of nineteen Olympic and World Championship medals.
Biles has an impressive resume including gold medals in the individual all-around, vault and floor events at the 2016 Rio Olympics.
Biles also won the bronze medal for the balance beam in Rio, as well as helping the U.S. squad to win the gold in the Women's Team All-Around.
Biles competes with unshakeable confidence, poise and enthusiasm for performing.
But Biles was not always a pillar of confidence.
In 2013, Biles' father contacted sport psychologist Robert Andrews to help his talented but struggling gymnast. Biles battled low confidence and nervousness in her early competitive years.
It is hard to believe that an athlete as dominant as Biles needed help with confidence, right?
But confidence isn't something you are born with, it is something you develop.
It is Biles' attention to the development of confidence and other essential mental skills that has contributed to her great success in the world of gymnastics.
Too often, when an athlete struggles during competition, they try even harder to nail their routine. This response only serves to amp up your anxiety riddling your routine with bobbles, missteps, loss of balance and hops on landings.
You can see why it is difficult to grow confidence when you perform with high levels of anxiety.
Andrews worked with Biles to lighten up, put less pressure on herself and enjoy the moment.
ANDREWS: "Sometimes when great athletes struggle, they try even harder, which creates more struggle. They're not trusting the talent they worked so hard to develop, and that creates more stress and frustration. She was a snowball rolling downhill. I had to convince her to take her foot off the gas, and enjoy the game again. She was so stoic at meets. It didn't look like she was having fun. Once she began interjecting that Simone smile into her floor routine, the fans and judges started smiling, too."
It is evident by Biles' infectious smile that she enjoys competing, not just to win gold medals but for the love of the sport and the daily challenges to find new ways to improve her performance.
The reason elite athletes get to the greatest heights in their sport is due to their willingness to admit there are areas in their mental game that require attention.
Many athletes ignore their mental game because they erroneously believe that they will be perceived as "mentally weak" to ask for help when, in reality, it is the strong athlete that can identify areas that need improvement.
The reason Biles is a champion is her commitment to physical, technical and mental excellence.
Are you ready to commit to mental excellence and develop the mental skills of champions?
Tips for committing to mental excellence:
Grade yourself (A through F) on the following mental skills:
–Confidence
–Managing Anxiety
–Ability to focus during competition
–Ability to re-focus after a mistake
–Ability to manage pressure
Now imagine how your performance would drastically improve if you were to improve just one of these mental areas.
Take control of your mental toughness today and commit to excellence.
Learn all of my secrets to improving your gymnastics mental toughness here!
---
Discover Mental Game Secretes to Unstoppable Confidence in Gymnastics!
Are you ready to improve your mental toughness and perform with ultimate self-confidence in competition?
Check out The Confident Gymnast Program!
The Confident Gymnast CD and workbook program was developed not only by Dr. Cohn, but with the assistance of former gymnast Olympian Wendy Bruce.
The Confident Gymnast is ideal for any competitive gymnast. But not only do gymnasts benefit from the program, coaches and parents do as well!
Gymnasts: Get the mental edge by learning how to take control of their confidence, mentally prepare for competition, and preform with composure under pressure
Coaches: Boost your gymnasts' confidence using simple, proven mental strategies.
Parents: Help boost your athletes' performance. Don't let their mind hold them back any longer!
Mental Coaches: Learn a proven system for helping your athletes boost mental toughness.
The Confident Gymnast is a complete brain dump of the TOP 8 mental training sessions we teach our gymnasts to help them boost their mental game and improve consistency- from how to mentally prepare for compeition to perorming under pressure to building unstoppable confidence.
The Confident Gymnast: Mental Game Strategies For Peak Performance
What are students saying?
"It was amazing!!! Before the show, I really felt like I was becoming the part. I was oddly calm, which concerned me because I thought my nerves might kick in on stage!  But, they didn't!  I stayed focused in each moment, and remained calm, and actually did the difficult tricks better than I ever have!  My coaches were all so proud of me and the one who I know the best was marveling at my calm, poised manner throughout the ballet.  They said it seemed like I was doing it for the 15th time, I looked so comfortable. This is the result of my work with you! You gave me the tools to tackle this huge mountain of a role, step by step!  I am beyond happy!"
~Professional Ballerina, Student of Dr. Cohn in 2013
---

What All Gymnasts Must Know to Overcome Perfectionism
Are you a perfectionist? What is your mindset when performing?
Here you'll learn:
–How your mind can be your best or worst asset in competition
–If perfectionism is holding you back from reaching your peak
–The top 6 perfectionist mindsets that sabotage success
–How to use perfectionism to your advantage, not your demise
What are customers saying?
"I am so grateful for your insights and experience. My focus is sharp and I feel relaxed but ready to meet whatever challenge comes up. If I make a mistake, I am able to let it go and move on immediately. You have really helped me a lot to get back on track and get things going again."
~Suzanne Strudwick
---
Boost Your Self-Confidence And Focus With Expert Mental Game Coaching!
Master mental game coach Dr. Patrick Cohn can help you overcome your mental game issues with personal coaching.
You can work with Dr. Patrick Cohn himself in Orlando, Florida or via Skype, FaceTime, or telephone. Call us toll free at 888-742-7225 or contact us for more information about the different coaching programs we offer!
Mental Game Coaching with Dr. Cohn
What are our students saying?
"WOW!!! What a week I had. I was able to perform with a confidence that allowed my style to shine through–no more entering the arena with that "deer in the headlights" look or feeling. I stopped evaluating myself while I was performing, and I actually left the arena after my patterns feeling like I had experienced a lot of fun. Thank you so much."
~Julia Dreyer, National Champion Equestrian