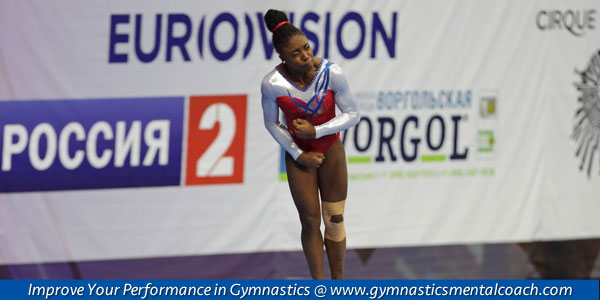 Social Approval in Gymnasts
Young gymnasts worry about what people are thinking about them when they are performing.
They worry about what their coaches think, if their routines look perfect and can score enough.
They worry about their parent's opinions, whether or not their parents support and believe in them.
They worry about what they look like when they are up there performing.
They worry about impressing their friends and families.
The list could continue on with all the worries that young gymnasts face…
When gymnasts start to worry about what others think, their confidence suffers.
Instead of focusing on their skills and routines, they are too busy worried about what everyone else is thinking of them. By doing this, they are focusing on all the negative things people could be thinking, instead of all the positive parts of their performance.
So how do you help a young gymnast who is too worried about what others are thinking?
Help them identify when they start worrying about what others are thinking. When they come to you asking about what others have said or about what you think, help them identify that they are focusing on the wrong things.
Help them figure out who or what is making them worry. Help them realize their true reason for worry. Do they worry mainly about what their coach thinks or are they worried about their physical appearance?
Help them to see themselves as winners. Help foster their confidence. Even when they don't perform as well as they hoped, encourage them and let them know that you are proud of them. Let them know what they did right instead of focusing on what they did wrong.
Help your gymnast replace their worry with something positive instead. Instead of saying things like, "I'm going to look really dumb if I mess this up in front of my friends. They will make fun of me if I fall," say something like, "I have practiced this skill so many times and I know exactly what I am doing. I got this!"
One of the best things you can do as a parent is to let your gymnast know what they did well in their routine or skill. Point out the positive and don't focus on the negative.
For young gymnasts who struggle with worrying about what others think, we suggest working through our The Confident Gymnast Workbook and CD program.
Help your gymnast develop the confidence they need to excel in gymnastics!
---
Learn Mental Game Secretes to Unstoppable Confidence in Gymnastics!
Are you ready to improve your mental toughness and perform with ultimate self-confidence in competition?
Check out The Confident Gymnast Program!
The Confident Gymnast CD and workbook program was developed not only by Dr. Cohn, but with the assistance of former gymnast Olympian Wendy Bruce.
The Confident Gymnast is ideal for any competitive gymnast. But not only do gymnasts benefit from the program, coaches and parents do as well!
Gymnasts: Get the mental edge by learning how to take control of their confidence, mentally prepare for competition, and preform with composure under pressure
Coaches: Boost your gymnasts' confidence using simple, proven mental strategies.
Parents: Help boost your athletes' performance. Don't let their mind hold them back any longer!
Mental Coaches: Learn a proven system for helping your athletes boost mental toughness.
The Confident Gymnast is a complete brain dump of the TOP 8 mental training sessions we teach our gymnasts to help them boost their mental game and improve consistency- from how to mentally prepare for compeition to perorming under pressure to building unstoppable confidence.
The Confident Gymnast: Mental Game Strategies For Peak Performance
What are mental coaching students saying?
"It was amazing!!! Before the show, I really felt like I was becoming the part. I was oddly calm, which concerned me because I thought my nerves might kick in on stage! But, they didn't! I stayed focused in each moment, and remained calm, and actually did the difficult tricks better than I ever have! My coaches were all so proud of me and the one who I know the best was marveling at my calm, poised manner throughout the ballet. They said it seemed like I was doing it for the 15th time, I looked so comfortable. This is the result of my work with you! You gave me the tools to tackle this huge mountain of a role, step by step! I am beyond happy!"
~Professional Ballerina, Student of Dr. Cohn in 2013
---

What All Gymnasts Must Know to Overcome Perfectionism
Are you a perfectionist? What is your mindset when performing?
Here you'll learn:
How your mind can be your best or worst asset in competition
If perfectionism is holding you back from reaching your peak
The top 6 perfectionist mindsets that sabotage success
How to use perfectionism to your advantage, not your demise
What are gymnasts saying?
"Ashley wanted me to let you know that she placed very well at her competition this past weekend, thanks to you! She won the short, won the long, and had her personal best. She now looks at her competitions like ice shows and has fun. It is really nice to see her thoroughly enjoying the skate. She is very focused and very confident. We definitely attribute this to you."
~Brenda Glassco, Skating Parent
---
Boost Your Self-Confidence And Focus With Expert Mental Game Coaching!
Master mental game coach Dr. Patrick Cohn can help you overcome your mental game issues with personal coaching.
You can work with Dr. Patrick Cohn himself in Orlando, Florida or via Skype, FaceTime, or telephone. Call us toll free at 888-742-7225 or contact us for more information about the different coaching programs we offer!
Mental Game Coaching with Dr. Cohn
What are our mental coaching students and parents saying?
"I just wanted to let you know that my son skated this weekend at our Regional Competition.  He worked his mental game and everything you taught him.  He skated two wonderful programs, scored a personal best and ended up with the title of Pacific Northwest Regional Champion at the Intermediate level.  Thank you for your wonderful training.  He had the right focus and had so much fun at this competition.  The title is sweet icing on the cake."
~Pomaika'i, Sports Parent