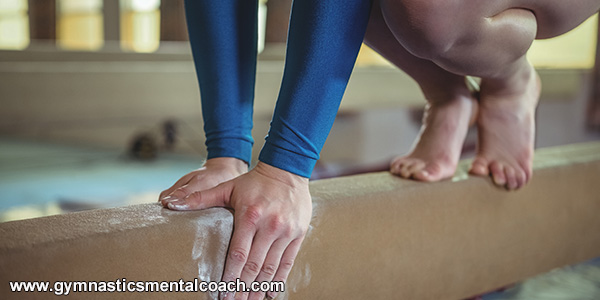 How to Mentally Prepare to Get Back to Competition
How would you rate your level of anxiety when you compete in gymnastics?
Does your rating increase significantly after a long layoff from competition?
In gymnastics, the fear of injury, bad performances, and tough judging can increase anxiety.
You have probably experienced all three at one time or another, so you know how it feels when you experience these fears.
Add the element of long layoffs to the equation and anxiety can skyrocket.
Recall a time when you were dealing with a nagging injury that required a significant period of rest. You still attended gymnastics practices, but you were limited in your training.
Your whole training routine was thrown off. After some time of recuperation, you were healthy enough to resume all activities.
In your first competitive meet after your layoff, were you highly confident? Were you anxious during warmups? Did you fear re-injury? Can you remember a time when you couldn't find your rhythm in your best event?
Meet after meet, you made uncharacteristic mistakes. You wondered when you would nail your routine again.
Were you frustrated? Did your anxiety level grow?
How were you able to lessen some of your anxiety?
You can lessen anxiety by boosting your confidence. Getting back in the gym, working on your skills, and practicing your routines build confidence.
Physical preparation lessens anxiety but only so much.
Mental factors contribute the most to your anxiety. Fear and worry detract from confidence, so physical preparation is not enough.
If mental factors contributed to your nerves, then mental preparation is the best way to manage your nerves.
Olympic hopeful Sunisa Lee returned to competition after a long layoff due to injuries and the coronavirus. Lee competed in the beam and bars events at the 2021 USA Gymnastics Winter Cup. The meet is considered somewhat of a pre-season competition, so mistakes and errors are common.
Lee commented on being nervous after such a long layoff:
LEE: "I think I personally lost a lot of confidence in myself, and it took a really long time to get back because there's so much that goes into competing and there's a lot that goes on mentally that other people can't see. I'm really nervous to get back out there, but I'm also excited because I feel like my coaches and I have worked really hard to prepare for this competition, and we've kind of realized that not everything is going to happen the way we want it to this year, so I think we're all going to be pretty nervous."
Lee earned first place for her bar routine as a result of her mental and physical preparation.
Preparation helps you manage stress by boosting confidence. And as confidence rises, anxiety lessens.
Performing with Confidence after a Long Layoff:
Instead of focusing on what might happen, focus on what you can do in each moment to best prepare yourself mentally and physically.
Make sure you have no expectations about score for each apparatus. Be careful of having expectations, such as making no mistakes during your routine. Coming back after a layoff is the best time to have no expectations about your performance.
---
Related Articles:
---
Learn Mental Game Secrets to Unstoppable Confidence in Gymnastics!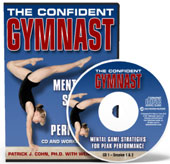 Are you ready to improve your mental toughness and perform with ultimate self-confidence in competition?
Check out The Confident Gymnast Program!
The Confident Gymnast CD and workbook program was developed not only by Dr. Cohn, but with the assistance of former gymnast Olympian Wendy Bruce.
The Confident Gymnast is ideal for any competitive gymnast. But not only do gymnasts benefit from the program, coaches and parents do as well!
Gymnasts: Get the mental edge by learning how to take control of their confidence, mentally prepare for competition, and preform with composure under pressure
Parents: Help boost your athletes' performance. Don't let their mind hold them back any longer!
Coaches: Boost your gymnasts' confidence using simple, proven mental strategies.
Mental Coaches: Learn a proven system for helping your athletes boost mental toughness.
The Confident Gymnast is a complete brain dump of the TOP 8 mental training sessions we teach our gymnasts to help them boost their mental game and improve consistency- from how to mentally prepare for competition to performing under pressure to building unstoppable confidence.
The Confident Gymnast: Mental Game Strategies For Peak Performance