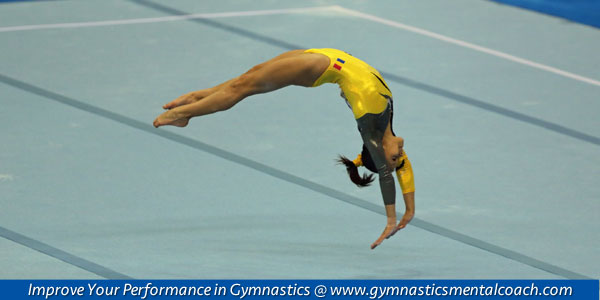 Managing Your Anxiety When Performing
Does your confidence waver during important competitions?At major meets, do you become overwhelmed by anxiety and have difficulty performing at high levels?
Confidence and performance anxiety have an inverse relationship.
When your confidence is high, your anxiety level decreases. The most effective strategy to perform well at high-level competitions is to improve confidence while simultaneously learning effective strategies to manage anxiety.
Heading into the World Gymnastics Championships in Antwerp, Canadian gymnast Kevin Lytwyn attempted to improve his mental game as he prepares for the 2016 Olympic Games in Rio de Janeiro.
Lytwyn is 22 years-old and was a member of the Canadian team that finished 14th at the 2010 Worlds in Rotterdam and 12th at the 2011 Worlds in Tokyo. He also competed in individual events at the 2009 Worlds in London.
Lytwyn has achieved some degree of international success winning a gold medal on the rings, and bronze medals on floor exercise and parallel bars at the 2010 World Cup of Montreal. Lytwyn placed fourth on high bar at the 2012 FIG Challenge Cup of Maribor, Slovenia; and at the 2013 FIG Challenge Cup on Anadia, Portugal, Lytwyn placed 12th on rings and 13th on vault.
Lytwyn has been a promising gymnast and Olympic hopeful for Canada placing first on rings at the 2010 Canadian Championships; first on rings and high bar at 2011 Elite Canada; and first on rings at the 2013 Canadian Championships.
Lytwyn has worked on improving his level of confidence as he attempts to make the jump to the next level and prepares for the 2016 Olympics,
"Confidence and nerve control really come with practice in the gym during training. I am really trying to focus on doing my daily training plans efficiently without extra turns. Also, mock meets are a great tool to put me in the mindset of a real competition."
Lytwyn set specific goals for Antwerp to improve his focus and manage his nerves,
"My specific goals in Antwerp are completing my routines without major errors and finishing with at least one top-16 finish." 
Focusing on not making errors is not an effective strategy as Lytwyn finished 17th on floor, 29th on rings and 105th on high bar. Gymnasts perform their best when they are focused on what they want to do, not what they want to avoid.
When asked about the perspective of competing in the All-Around at international events, Lytwyn stated he wanted to compete from his strengths,
"Actually I have not competed in all-around for a few years now. I was never very good on pommel horse, and, after I stopped training pommel horse, it took a lot of stress out of my training and let me focus on my better events. This enabled me to help out our team and increase my Start Values so I can be more competitive internationally."
A lot can be learned from Lytwyn's gymnastic experience regarding confidence and anxiety.
Confidence is a skill and requires attention and effort to develop.
A sense of control can be enhanced by focusing on your routines and abilities.
Creating pressure scenarios during training sessions can practice managing anxiety or stress.
Focusing on avoiding mishaps often leads to mishaps. Focus on what you want to accomplish.
Confidence is enhanced when you focus on your strengths.
Download our free Gymnastics Psychology Report!