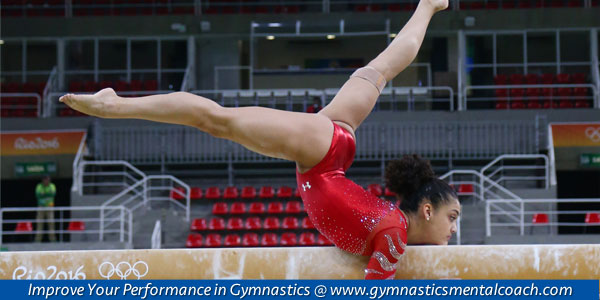 Pushing to Greater Heights Gymnastics
What allows some gymnasts to continue to climb up the ladder of success while others tend to experience frustration and give up all together?
Gymnasts who continue to ascend adopt a philosophy of daily improvement. These gymnasts work hard to be a little better than yesterday.
Gymnasts who quit see their performance as a statement of their ability not a baseline of their current status. These athletes become frustrated and anxious as they are focused on some long-term goal that has yet to be achieved.
To achieve long-term success, a gymnast must focus on the process of developing and what they can do "now" to take steps toward their long-term goal.
Abby Milliet is a senior international elite gymnast who has been dedicated to steady improvement as evidenced by her achievements.
In 2010, at the age of 14, Abby qualified for the Junior VISA Championships in Hartford, CT. Two years later, Milliet made her senior debut at the American Classic.
Milliet placed first on uneven bars, second on vault and balance beam and second in the all-around. Milliet then qualified for her first Senior Nationals by placing eighth on vault at the Secret US Classic.
At the Visa Championships, Milliet placed eleventh in the all-around, eighteenth on uneven bars, tenth on balance beam, and fifteenth on floor exercise but was not selected for the national team.
In 2013, Milliet continued to improve and focus on her skills and routines producing even greater results,
"Learning and perfecting new skills is always fun because it helps you make new goals for yourself and be able to push yourself to greater heights. The best quality of my gymnastics would have to be cleanliness. I always work hard to have my skills, but I try to make sure to put forth my best effort to learn them correctly and with good form and execution."
At the 2013 National Championships in August, Milliet's mental focus on daily personal improvement paid off as she placed eighth in the all-around. Milliet stated her short-term goals were technique-oriented,
"I would like to get some new skills and perfect them."
Milliet has created the long-term goal of being selected for one of the US international teams,
"Long-term, I hope to make an international assignment."
Milliet credits her participation in gymnastics for teaching her valuable life lessons,
"It [gymnastics] has taught me that if I focus and give it my all, I can do anything. Also, now that I've experienced so much in gymnastics, I feel like I won't be afraid of things in the real world!"
Milliet's gymnastics career is a great example of how to succeed in gymnastics:
You must have some direction, a goal that provides motivation for your efforts.
You need to be able to focus on what you are doing now. The only way to accomplish something big is to take small steps each day towards your goal.
You need to recognize that you are the toughest competition you will face, so stay focus on yourself and your skill set.
You must recognize that hard work is the most effective way to achieve your potential.
You should realize that the gymnast you are today is not the gymnast you will be tomorrow.
Download our free Gymnastics Psychology Report!