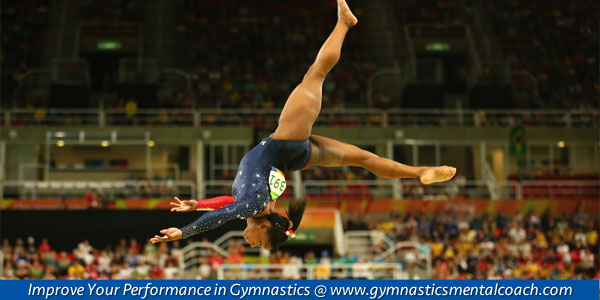 Improving Your Performance With Mental Toughness
Have you ever competed in a meet where your performance flowed effortlessly without being distracted by your surroundings or your thoughts about performing?
This is the ideal mental state for competing and has been referred to by many names such as:
"being in the zone"
"flow"
"performing in the moment"
Most athletes know what detracts from performing optimally (over-thinking, anxiety, ruminating about past mistakes, trying to do too much) but rarely do athletes know how to get into an optimal mental state that aids their performance.
Adrian de los Angeles, US gymnast, has sought to develop his competitive mental state as he gears up to establish himself during the new Olympic cycle.
At the 2013 Winter Cup Challenge, Adrian won the silver medal in the All-Around just .85 points behind 2012 Olympian Jake Dalton and .45 points ahead of 2012 Olympic all-around bronze medalist Danell Leyva. Adrian led Dalton after the first day, but relinquished the lead on the second day of the competition.
Despite some mistakes at the Winter Cup Challenge, Adrian was happy with his ability to main his focus despite some mistakes,
"Looking back, I was happy about my overall performance and how I was able to push through mistakes made during the meet. I was most pleased with not losing my focus after the first day of competition."
Adrian was also able to block out distractions as he faced off against the former Olympians,
"I was able to stay calm competing against veterans by not thinking about that at all. I just kept my head with myself and only focused on controlling what I could control, which was my own gymnastics."
Adrian described how his he feels competing in the moment,
"There are sometimes when I'm out there [on the bars] and I know I'm going to hit the routine and it just feels natural, I'm not fighting the gymnastics. It's fluid."
Adrian has set some challenging goals for the future,
"As one of the newcomers for 2016, I plan on stepping up my gymnastics as much as I can. Hopefully I will be able to compete at more international meets and make a World Championships team. As the rest of the world gets better, I need to be doing the same."
How to develop the ideal mental state for gymnastics competition:
You should set challenging but small goals for yourself. The exhilaration of reaching for new performance heights sets the mood for entering the "zone."
You should block out distractions (spectators, opponents, arena, thoughts, anxiety, previous performances and past history) by focusing on your routines.
You should focus on the task at hand or concentrate on what you need to do now.
You must immerse yourself in the moment and perform as if you were on autopilot without analyzing or judging your skills.
You need to be confident in your ability to hit your routines. If you don't believe you can achieve what you set out to do, you will not give your fullest effort.
Download our free Gymnastics Psychology Report!