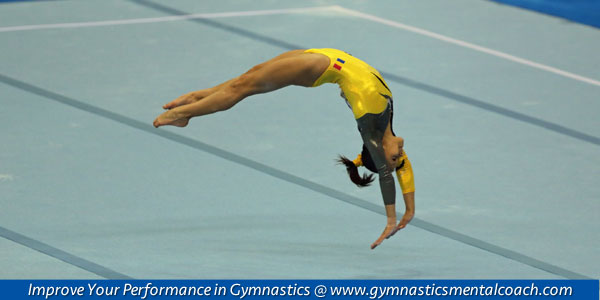 How to Overcome Fears in Gymnastics
Do you worry about your ability to perform a certain skill in a gymnastics competition? Do you feel you will fail when it matters most during a routine?
Think of a competition where you were unveiling a new skill you have been practicing…
You may have worried if you were capable to replicate the skill in competition… As the event approached, you felt incapacitating dread and fear…
When it was time to perform, you over-thought the technique, froze and messed up what you have practiced flawlessly numerous times during training.
Everybody has some degree of anxiety entering a competition. A bit of a mental "edge" could benefit your performance.
Too much worry and fear can cause you to perform tight and tentatively.
How you interpret and respond to worries and fears often determines your level of performance.
Gymnasts who believe their worries and fears can be overcome are more capable of managing their worries and dealing with their fears.
Scott B. Martin et al. examined the phenomenon of anxiety experienced by competitive gymnasts in their research, "Worries and Fears of Competitive Gymnastics" (Journal of Clinical Sport Psychology, 2008).
The gymnasts interviewed for the study reported that their worries and fear often caused mental blocks before or during the execution of movements.
In terms of performance, the gymnasts primarily worried about being viewed as incompetent, being able to perform skills and routines, and suffering injuries.
Negative images, like a minor error on the beam, may cause a gymnast to worry about being viewed as unskilled, incompetent, ill-prepared, unfit, or unable to handle the pressures of competition which influences their overall views of performing.
In regards to fear, the biggest fears of gymnasts in this study were fear of failure, fear of social evaluation, fear of learning a skill and fear of the unknown.
Martin et al. discovered that advanced gymnasts reported using more strategies to modify their worries than did less skilled gymnasts.
The most frequent strategies utilized by elite gymnasts to overcome their fears were imagery, breath control, self-talk and performance routines.
Martin et al. concluded by highlighting the steps to deal with fear and worries:
identify your fears and worries
examine the consequences of those beliefs
compare the pros and cons of maintaining those beliefs
learn mental skills to challenge and modify those beliefs
Try these tips to improve your mental toughness and overcome fear:
Tip #1: You want to direct your attention away from self-worries by focusing on the meaningful elements of performance. Focus on what you need to do now.
Tip #2: You should challenge your negative beliefs regularly, including training sessions. Use deep breathing and positive self-talk, as you engage in this self-debate, to move yourself into a more effective competitive mindset.
Improve your confidence in gymnastics with our new CD and Workbook program: "The Confident Gymnast."